I'm a trilingual freelance copywriter and digital marketer, living in the city of Montreal.

I help small businesses transition from the online sphere to the digital world, with words that count.

Digital Writer:

Freelance Copywriter in Montreal

I'm a freelance copywriter and activist at heart ! 
When I was younger, I wanted to change the world. Yet, like most of us, my idealistic mind transformed itself into an optimistic but realistic one instead.
Now, I consider myself a community activist. I believe change starts from within and slowly but surely expands to neighbours and communities.
From the very beginning of starting my business, I knew my focus was to generate a sustainable financial situation.
However,  my core mission is to help and serve my community to the best of my skills and abilities.
I believe that achieving both is not only possible, but definitely compatible.
First and foremost, I'm a writer at my core.
Secondly, I have a multi-passionate entrepreneurial spirit. 
Therefore, Digital Writer is a heart centered service, as well as a social minded freelance copywriting and digital marketing business in Montreal.
 My mission is to help your business succeed and thrive in the digital world.

My Story:

From 9 to 5 to freelance Copywriter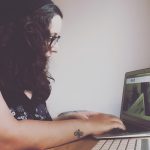 Copywriting is modern storytelling with flair !
You need a story, a writer and the right words.
I've always dreamed of being a writer! Now, I'm a copywriter.
With that being said, I never really considered being a writer a realistic line of work for me.
That is … Until now !
I've worked in the insurance industry for more than 20 years.
Bureaucracy, sales and customer services was what I excelled at, most of my life.
However, a couple of years ago, I made a drastic career change. I was offered an operation coordinator and assistant marketing position, in a small  tech enterprise.
The insurance world had no more secrets for me. Embarking in a new project  while challenging myself, appealed greatly to me.
Quickly, the ins and outs of the operation department was second nature to me.
On the other hand, my eagerness together with my  intuitive skills for the marketing writing gig, astounded me.
I was in charge of written communications such as writing  press releases, creating custom job listings, email marketing campaigns, create sales pitch  and much more.
Thus, I caught the digital copywriting marketing bug.
I started to read and educate myself on the matter. Hoping to eventually transition from the operation's division to the digital marketing department, full time.
Covid-19: Is there a freelance copywriter in Montreal !
Overnight, everything changed.
I lost my work position due to the pandemic.
Baffled about what to do next, I contemplated going back to the corporate world. Yet, every bit of my being was pulling me towards another direction.
I've always loved writing; I've always love to create. I'm at my best when I help people.
The feeling of helping someone whether by supporting a cause, volunteering time or doing something to make a change, has always driven me.
Being a part of someone's journey is an amazing feeling. It speaks to my humanitarian and compassionate values.
Consequently, it drives my logical mind into action.  
 Everything in life starts with an idea.  
I started by listing everything I already knew, what I wanted to learn, how I could help my community while doing what I love and ultimately make a living out of it.
This is how Digital Writer was born.
Thus, my journey into freelance copywriting and digital marketing begun.
One client, one project at the time !

Humanize your brand story with words that count !